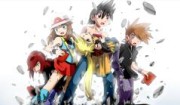 This fanfiction is made by Stickman22, an takes place one year after the Emerald chapter of the Manga and has the Kanto, Johto, and Hoenn Pokedex Holders. It features pairings that are mostly canon and is arranged like the Manga in parts called pieces.
Characters
Edit
Character Lists
Edit
*All characters are Manga Characters*
Red
Yellow
Blue
Green
Gold
Crystal
Sapphire
Ruby
Silver
Emerald
RedxYellow
BluexGreen
GoldxCrystal
RubyxSapphire
Story Links
Edit
Ad blocker interference detected!
Wikia is a free-to-use site that makes money from advertising. We have a modified experience for viewers using ad blockers

Wikia is not accessible if you've made further modifications. Remove the custom ad blocker rule(s) and the page will load as expected.